«9th Planet» is the 9th musical album of the artist. As the previous four, it is comprised of two disks. From the global perspective, Igor Zavadsky has, just as every creative personality, his own world and his own planet, living on which is very different from everyday life. As regards the musical world, each album is for Igor like a separate planet with its name and peculiarities. As of August 24, 2006, there were 8 planets left in the solar system. The International Astronomical Union decided that Pluto shall no longer be a planet. Igor Zavadsky has always been beyond any limits. He is now beyond the solar system with his ninth planet :)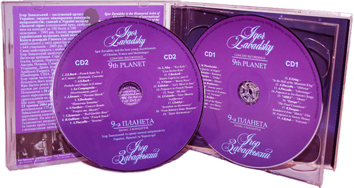 In the «9th Planet», as compared to other albums, the chronological period to which the musical pieces included in the CD refer was expanded now ranging from the XVI century (G.Caccini) to the XXI century (A.Rybak), which is a half of a millennium! The repertoire's genre variety was also widened: Igor played rock and world's pop hits of the XX and XXI century for the first time. Igor Zavadsky's button accordion sounds for the first time with the orchestra of folk instruments, in trio with violin and opera singer, with chorus and percussion, and in duet with harmonica. In «The Phantom of the Opera» by A.L.Webber, Igor combined the acoustic sound of his instrument, orchestra, chorus, and opera singing with the electronic sound of a variety group. Also for the first time, Igor Zavadsky's voice may be heard on his disks: before G.Sviridov's «Troika», Igor declaims the epigraph to A.Pushkin's story «The Snowstorm» (V.Zhukovsky's verse).
8 of 22 pieces, though in a different interpretation, where Igor plays were already part of his previous albums. The second disk of the album presents three duets with Igor Zavadsky's performance and guests of his concerts from Ukraine, France and Montenegro. All of the album's compositions are recorded directly at three Kyiv concerts of the artist held in the October Palace (January 20, 2010) and in the Actor's House (January 21, 2009 and January 21, 2010).
---
"9th PLANET"
CD1
| | | | |
| --- | --- | --- | --- |
| 1. M.THEODORAKIS | – Overture to "The Quarter of Angels" Opera | 5'33 | |
| 2. G.SVIRIDOV | – Romance from Musical Illustrations to A.Pushkin's Story "The Snowstorm" | 5'33 | |
| 3. G.SVIRIDOV | – "Troika" from Musical Illustrations to A.Pushkin's Story "The Snowstorm" | 3'16 | |
| 4. L.BOCCHERINI | – Minuet | 2'13 | |
| 5. L. van BEETHOVEN | – Sonata No. 14 "Moonlight", part I | 6'44 | |
| 6. A.VIVALDI | – Concerto in D minor for Chamber Orchestra, part I and Final | 1'43 | |
| 7. C.ORFF | – "O, Fortuna!" from Cantata "Carmina Burana" | 2'29 | |
| 8. E.L.WEBBER | – "The Phantom of the Opera" | 3'14 | |
| 9. G.CACCINI | – Ave Maria | 3'51 | |
| 10. G.BIZET | – "Habanera" from "Carmen" Opera | 4'09 | |
| 11. E.GRIEG | – "In the Hall of the Mountain King" from the "Peer Gynt" Suite | 2'32 | |
| 12. A.PIAZZOLLA | – "Oblivion" | 3'49 | |
| 13. A.PIAZZOLLA | – "Libertango" | 4'41 | |
| 14. | – Potpourri to Joe Dassin's Songs | 3'30 | |
| 15. "ABBA" | – "Money" | 2'40 | |
| 16. "EUROPE" | – "The Final Countdown" | 3'12 | |
| 17. R.DOUGAN | – Soundtrack from "Matrix" Film | 3'26 | |
| 18. | – Potpourri to Variety Themes | 6'15 | |
| 19. A.RYBAK | – "Fairytale" | 1'51 | |
Igor Zavadsky:
1-3 - with Orchestra of Folk Instruments of "October Palace", Kyiv
(Art Director - Victoria Vasylieva)
4 - in duet with Yevhen Kovaliov (button accordion, Ukraine)
5, 11 - performed solo
6 - in duet with Ivan Zavadsky (button accordion, Ukraine)
7 - with chorus (Art Director - Anzhela Maslennikova) and percussion
8 - with orchestra, chorus, opera soloist (Olena Hrebeniuk) and variety group
9 - in trio with Olena Hrebeniuk and Ulrike Werner (violin)
10 - with orchestra, chorus, and opera soloist (Olena Hrebeniuk)
12 - in duet with Yevhen Havryliuk (piano accordion, Ukraine)
13 - in duet with Dmytro Mazur (button accordion, Ukraine)
14-19 - with variety group: Oleksandr Murenko (percussion),
Yurii Kondratiuk (guitar), Oleksandr Chunin (bass guitar)

Total Time: 70'49
---
"9th PLANET"
CD2
| | | | |
| --- | --- | --- | --- |
| 1. J.S.BACH | – French suite No. 2 in C minor: Allemande, Courante | 3'48 | |
| 2. J.S.BACH | – Prelude and Fugue in E minor (Well-Tempered Clavier, Book ˛) | 4'23 | |
| 3. LA COMPAGNOLA | – Divertissement, part I | 2'26 | |
| 4. J.STRAUSS | – Persian March | 2'16 | |
| 5. Y.DERBENKO | – "Humorous Sonatina" | 3'39 | |
| 6. V.NOVIKOV | – Concert Rondo "Forgive me, Mozart!" | 5'58 | |
| 7. V.SEMENOV | – "Red Guelder Rose" | 6'40 | |
| 8. R.GALLIANO | – Valse "French Touch" | 3'24 | |
| 9. A.PIAZZOLLA | – "Inverno" | 6'12 | |
| 10. L.NIKA | – "Test Kolo", "Cica Sevino Kolo" | 4'04 | |
| 11. V.BESHEVLI | – Sonata Capriccio, part II | 3'15 | |
| 12. V.VLASOV | – "Bossa Nova" | 3'09 | |
| 13. Y.OLEKSIV | – "Let's Move in Jazz" | 2'13 | |
| 14. | – Potpourri to French Themes | 5'08 | |
| 15. | – Tango "9th July" | 2'56 | |
| 16. J.COLOMBO | – Valse-Musette "Indifference", improvised by performers | 2'35 | |
| 17. I.SUKHYI | – "Invention on Harmonica" | 2'15 | |
| 18. Folk Song | – "From Behind a Stone Mountain" | 1'11 | |
| 19. | – "Sister Harmonicas", Potpourri to Ukrainian Folk Themes | 4'46 | |
1, 6, 7 - Vitalii Kozytskyi (button accordion, Ukraine)
2 - Yevhen Havryliuk (piano accordion, Ukraine)
3 - Sava Vuyachich (button accordion, Montenegro)
4 - Vitalii Husak (button accordion, Ukraine)
5 - Bohdan Mashtaliar (button accordion, Ukraine)
8 - Ivan Kornev (button accordion, Ukraine)
9 - Quartet of P.I.Tchaikovsky National Musical Academy of Ukraine: Yevhen Havryliuk (piano accordion),
Andrii Chuhai (violin), Oleksandr Kasakkhanov (violoncello),
Daria Kharytonova (piano)
10 - Mykhailo Kashuk (button accordion, Ukraine)
11 - Yevhen Kovaliov (button accordion, Ukraine)
12 - Ivan Zavadsky (button accordion, Ukraine)
13 - Dmytro Mazur (button accordion, Ukraine)
14, 15 - Gabriel Chantrieux (button accordion, France)
16 - duet: Gabriel Chantrieux - Igor Zavadsky
17 - Ivan Sukhyi (accordion, Ukraine)
18, 19 - duet: Ivan Sukhyi - Igor Zavadsky

Total Time: 70'27
---
If you want to order Igor Zavadsky concert, please phone +38 (073) 049-38-48,
or write to mailbox
igor@zavadsky.net.ua