"MINOR-II" (2002) - the album includes popular and classical compositions performed solo, in duet with a piano accordion and those accompanied by an ensemble of accordionists.

"Minor-II", as well as previous album, "Minor. From Bach to Piazzolla", is a part of anthology of Igor Zavadsky's performances. They are dominated by classical music arranged by him for button accordion.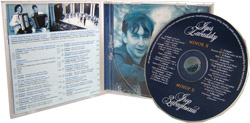 The "Minor-II" comprises 17 musical pieces three of which are the new versions of "Joke" by Bach, "Winter" concert from the "Four Seasons" by Vivaldi and Piazzolla's "Libertango" from the previous album. Besides 11 solos the album includes four compositions performed by duet with Yevgeniya Cherkazova as well as two Vivaldi's conserts accompanied by ensemble consists of ten accordionists - students of P.I. Tchaikovsky National Academy of Music.
The album title is not a random choice. The name of the word "minor" is congenial to the author in all its variety. On the one hand, it means "melancholy", "grief" to describe a musical key. The pieces in Igor Zavadsky`s compact-disks have various shades and character: monumentality, irony, heroism, daydreaming, tragedy, nostalgia… To show this diversity of minor the musician professionally uses a bright palette of sounds, so characteristic of his instrument rich in timbres.
On the other hand, in English and French the word "minor" also means a juvenile. This age is a permanent condition of Igor Zavadsky's soul that he wants to transmit to the audience.
---
1. A.VIVALDI
- Concerto "Winter" from "The Four Seasons", three parts

3'30

2'15

2'47

---

---

2. A.VIVALDI
- Concerto in A minor for violin with chamber orchestra, three parts

3'26

2'06

2'37

3. J.S.BACH
- Organ prelude in E minor
2'44
4. J.S.BACH
- Prelude and fugue in C minor ("Well-tempered clavier", vol.1)
3'23
5. J.S.BACH
- Scherzo from suite ¹2 (Badinerie)
1'26
6. M.REGER
- Organ introduction in D minor
2'28
7. C.GUASTAVINO
- "Sunday morning" (fugue featuring an Argentine folk song)
3'14
8. F.CHOPIN
- Waltz ¹7 in C sharp minor, op.64/2
3'16
9. F.CHOPIN
- Nocturne ¹2 in E flat major, op.9/2
4'00
10. F.CHOPIN
- Waltz ¹14 in E minor
2'36
11. M.OGINSKY
- Polonaise, arranged by N.Risol
4'56
12. N.RIMSKY-KORSAKOV
- "Flight of the bumblebee" from opera "Tale of the tsar Saltan"
1'13
13. V.CHERNIKOV
- Paraphrase to the theme of B.Mokrousov's song "Lonely accordion"
4'25
14. Z. de ABREU
- "Tico-tico", arranged by I.Zavadsky
2'47
15. Y.SHAKHNOV-V.USHAKOV
- "The blue ball is sprinning"
3'18
16. Arranged by V.Ushakov
- Karelian-Finnish polka
1'44
17. A.PIAZZOLLA
- "Libertango", improvised by performers
4'14
1,2 - I.Zavadsky and ensemble "Grand-accordion"
3, 4, 6-14 - solo performance
5, 15-17 - duet: I. Zavadskiy &Y. Cherkazova (piano accordion)


Total time: 62'29
2002.