Album "Angel trills" (2003) - is the continuation of Igor Zavadsky's anthology of his performance technique ("Minor. From Bach to Piazzolla"-2001,"Minor-2"-2002). It's the first ever unique recording of a button accordion solo, accompanied by a chamber orchestra in Antonio Vivaldi's concertos, as well as a recording of a duet with harpsichord in musical compositions by Johann Sebastian Bach and Giuseppe Tartini.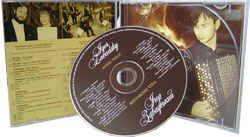 "Devil's trill", a sonata by Tartini, transcribed by Igor, has a special role to play. Not only the title was changed into "Angel trills", it reflects a conversion of content also. This work is a musician's answer to the evil powers; Lawrence Peter's words could serve as an epigraph to it: "The Devil still can change. Once he used to be an Angel and, possibly, he continues to evolve. "Igor chose a dramatic confrontation between the good and the evil to be a basement for his transcription, which is expressed in the two musical images' struggle. Meanwhile the Angel trills gradually become stronger and the Devil trills diminish turning into a cry of repentance. The musician is sure that the energy put into the "Angel trills" transcription will help all listeners to discern better the good and the evil, to strengthen their belief in victory over dark powers.
Igor Zavadsky is an Honoured Artist of Ukraine, a laureate of International contests. He is the sole owner of "Golden Lira"- the prize awarded to him at an accordionist contest in Italy for scoring 100 points out of a hundred possible.
---
1. J.S.BACH
- "Siciliana"
3'26
2. J.S.BACH
- Scherzo from suite ¹2 (Badinerie)
1'24
3. D.TARTINI
- "Devil's trill"
11'05
4. A.VIVALDI
- Concerto "Winter" from "The Four Seasons", three parts
3'12

2'06

3'15

5. A.VIVALDI
- Concerto "Summer" from "The Four Seasons": Adagio, Presto (Tempo impetuoso d'estate)
2'29

2'53

6. A.VIVALDI
- Concerto in A minor for violin with chamber orchestra, three parts
3'37

2'05

2'55

7. F.CHOPIN
- Valse ¹3 in A minor, op. 34/2
5'43
8. I.ALBENIS
- "Asturia"
6'15
9. A.PIAZZOLLA
- "Libertango", improvised by I.Zavadsky
4'22
10. Z. de ABREU
- "Tico-tico", arranged by I.Zavadsky
3'05
11. E.DOGA
- Valse from "My tender beast" film
2'56
12. J.MOUTET-A.VERCHUREN
- "Fantastic czardas"
2'45
13. J.COLOMBO
- Valse-musette "Indifference"
2'40
14. G.HAMELL
- "Crystal pearls", polka-fantasia
3'17
1-3 - duet: Igor Zavadskiy & S.Shabaltina (harpsichord)
4-6 - accompanied by "ARCHI", chamber orchestra
7,8 - solo performance
9-14 - arranged for variety by A. Ostapenko


Total time: 69'40
2003.
---
If you want to order Igor Zavadsky concert, please phone +38 (073) 049-38-48,
or write to mailbox
igor@zavadsky.net.ua